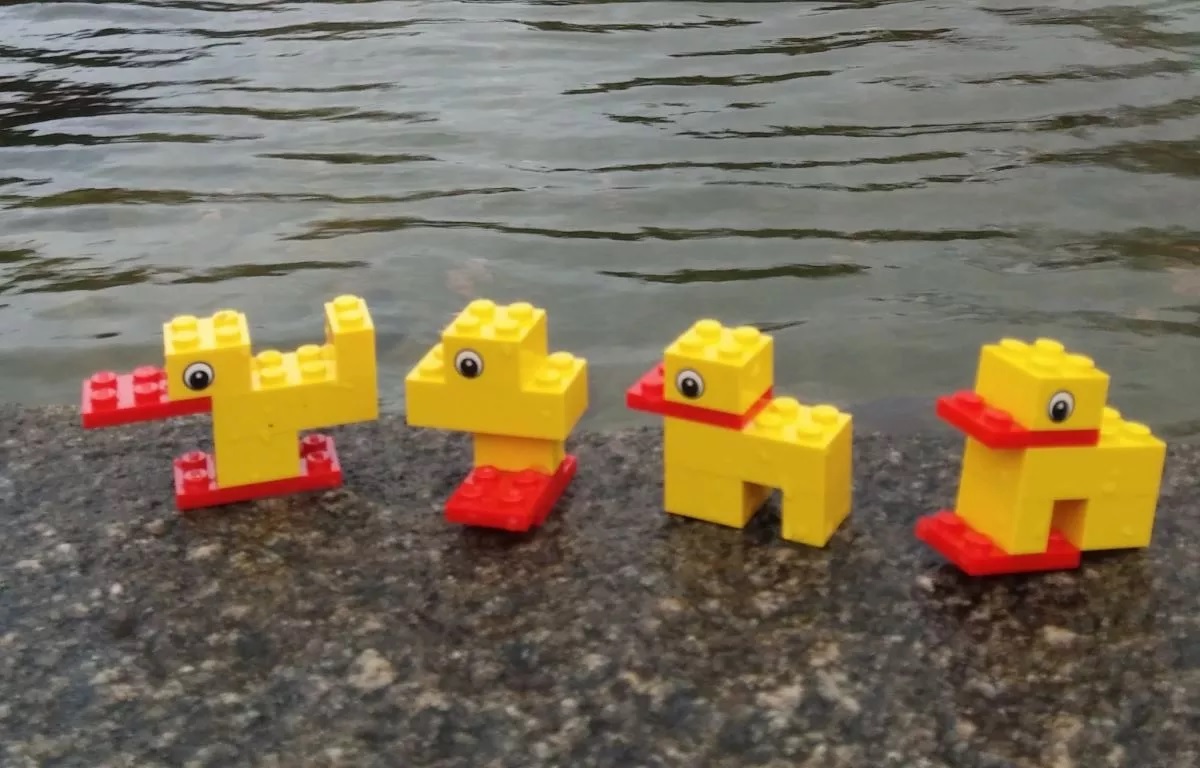 On January 9th 2015, I made a short stop in Dublin to visit a friend who is a trainer at the Innovation Academy. He invited me to his workshop on design thinking which I enjoyed very much and thought I would share it here on my blog.
The term "design thinking" has been popularized by Tim Brown, the CEO of IDEO which is the top design & consulting firm in the word. The goal of design thinking is to match people's needs with what is technologically feasible and viable as a business strategy. In other words, it's an approach to problem solving that involves empathy, creativity and rationality.
The workshop I attended combined a diverse group of audience eager to learn and ready to work. At the beginning, plastic bags containing few LEGO pieces were distributed to each member on each table. Later, the trainer asked us to takeout 6 specific LEGO pieces shown on his presentation. We all took out the 6 LEGO pieces and waited further instructions. Then, we were asked to create a duck out of these 6 LEGO pieces in only 30 seconds time. GO!
With very little instructions, everyone was rushing to create a duck using their imagination. The 30 seconds were over and then an interesting discussion began. The trainer asked "Do any of you have the same exact duck? Go ahead and check all the LEGO ducks in the room." To our surprise, all the ducks were unique even though we had only 6 identical pieces of LEGO.
There was a great lesson from this simple yet interesting exercise! Our creativity and ability to generate solutions went through the roof when asked to solve a problem given minimal instructions and a short period of time. We didn't have detailed set of instructions or time to reflect on what's needed, create a strategy and come up with the best LEGO duck design. This shows that we are trained to kill ideas very early on in how we approach problems. More quantity of solutions can lead to more possible creative solutions. It wasn't about the right solution or about the best looking duck, but rather understanding the problem from different perspectives which later would help us find the ideal solution.
There are many great creative solutions that emerged using design thinking. One of which is the TEDx
video
 showing a solution to the sanitation for rural Cambodia done by IDEO.
In summary, children are great at experimenting and producing many poor solutions and adults are great at deducing to few good solutions. To be excellent problem solvers, we need to embrace the creative child within us to come up with as many creative solutions as possible. From there, we can apply our critical and analytically skills to deduce solutions that are feasible.
Finally, I enjoyed the design thinking workshop and I plan to replicate this exercise in some of my future workshops emphasizing the importance of design thinking. There is no better way in doing it than playing with LEGO!
Emad Saif