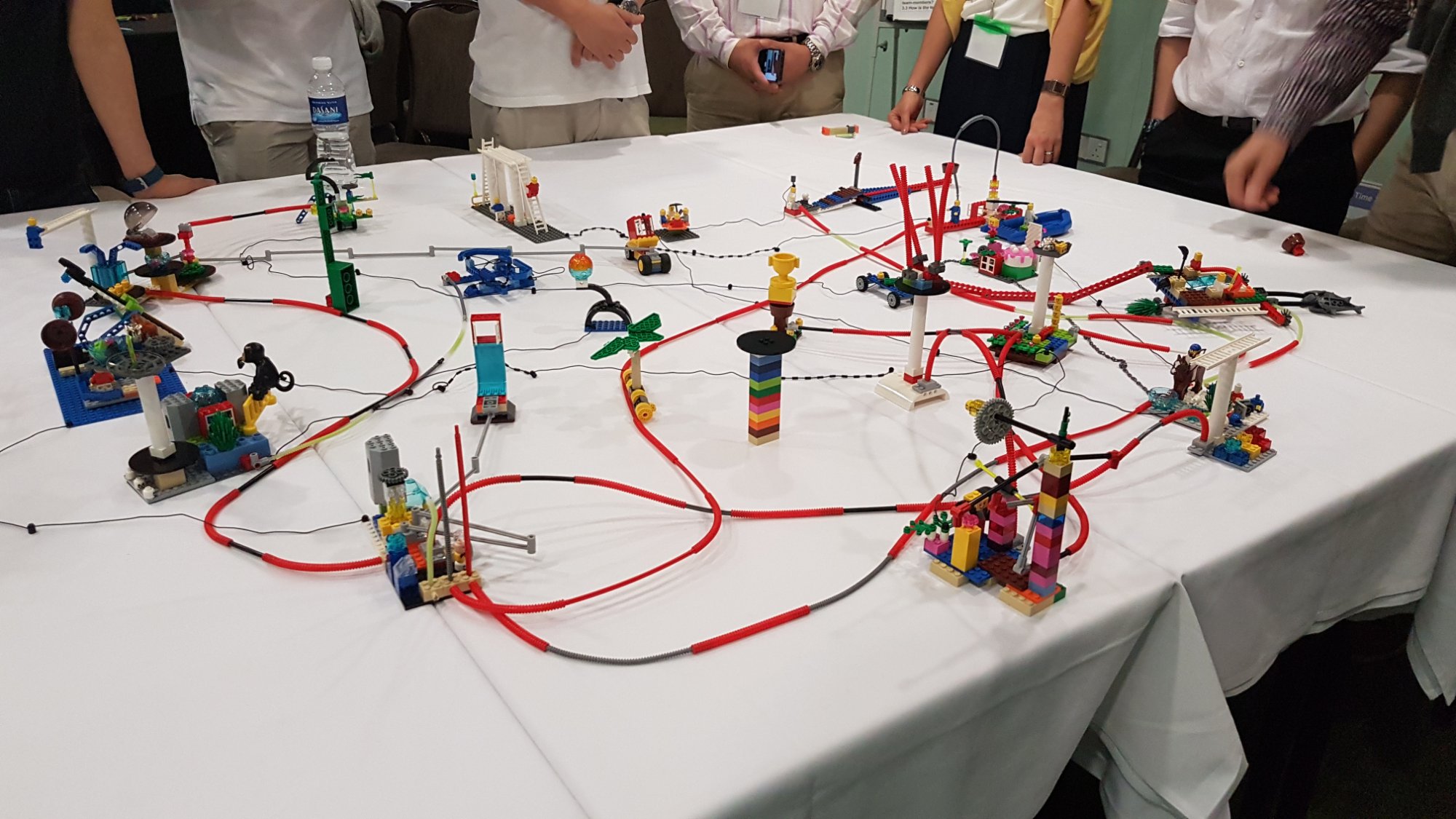 I recently completed my certification in LEGO Serious Play. As an educator I wanted to to improve my facilitation skills so I can run better workshops. I was intrigued by the idea of using LEGO for facilitation, not to mention the opportunity of playing LEGO as an adult with other educators and consultants. Sure enough, the creative child within me was awakened. Over the 4 days of training, we built many LEGO models, shared stories and had deep reflections and AHA moments. I've gained valuable insights from that which fundamentally changed how I go about designing and running workshops. I would like to share some of these insights with you.
WHAT IS LEGO SERIOUS PLAY?
LEGO Serious Play (LSP) is a creative "hands-on" approach to innovation & enhancing business performance through the play with LEGO bricks. It is "Serious Play" because it is play with purpose. This methodology can be used to improve the quality of meetings, accelerate the innovation process, promote team growth, enhance communication and much more.
INSIGHT #1: 100% Engagement Is Possible
In typical meetings or workshops, it's challenging to get people to contribute and they often "lean-out" meaning their body language mirrors what's happening in their minds -they are not engaged and have mentally left the building. During the LSP Training, we all experienced "lean-in" where 100% of the group members were engaged and their bodies leaned in towards the discussion. As a result, everyone contributed to the discussion and we unlocked "deep knowledge" within each of us that we didn't know existed. There was harmony and great energy in the room which is unbelievable for a group of professionals who just met each other for the first time. We all experienced 100% engagement that now we know is possible to accomplish, but how did the LSP method do that? That question can probably by answered by learning the details of the LSP method discussed in the wonderful book "Building A Better Business Using LEGO Serious Play Method" by Per Kristiansen and Robert Rasmussen.
INSIGHT #2: We Forgot To Learn With Our Hands
In response to the carefully posed questions by the facilitator, we had to construct LEGO models to answer the question. For example, the first task we were asked was to build a tower using green and orange bricks with a tree on top. Our first inclination is to ask many questions and plan before building. However, the LSP method forced us to think with our hands. We just built and trusted that the answer will emerge as we constructed our LEGO models. There is strong scientific foundation in which the LSP method is built on called "constructionism". There is an incredible connection between your hands and your mind that allows you to construct and access new knowledge.
INSIGHT #3: The Power Of Metaphors & Stories
When we started building LEGO models in the training, we competed on making the most beautiful and complex models. Those with previous experience with LEGO or perhaps with an engineering background were considered superior. However, we came to learn that it's not about the LEGO bricks but the metaphors it represents and the stories it creates. Metaphors are a type of analogy that helps us to convey meanings represented by the LEGO bricks. For example, a propeller brick can be a metaphor for "advancement". A flag may represent "destination" or "victory". There is no right or wrong. It's whatever meaning the storyteller wants to convey and must be accepted by the listeners. Metaphors are powerful in generating radically new ways of understanding things. They can uncover our perceptions, attitudes and feelings that are often subconscious or difficult to articulate. We all listened to each others' stories intently and admired the metaphors used. They created an emotional links between the group members and a better understanding of each other.
INSIGHT #4: Judging The Model But Not The Person
In meetings and workshops people are often hesitant to share ideas and feelings in fear of judgement. Building LEGO models magically shifted the attention from the person to the models they built. We all asked questions about each other's models and what certain bricks represented. But not once did anyone feel judged! All attention was on the models and not on the individuals. This encouraged everyone to open up and even build a deeper understanding of their models as they reflected and responded to questions. That was one of the most fascinating insights in my opinion as I have now discovered a way to engage people on a deeper level without fear of judgement using LEGO.
The LSP methodology is effective and it has been adopted by many facilitators and consultants worldwide. The method has endless applications which you can apply creatively to solve problems and tap into your team's full potential. LSP inspired me to apply it in the field of entrepreneurship education and I hope it inspires you as well to apply in your own field.
Entrepreneurship Educator | LEGO® SERIOUS PLAY® Facilitator